Ableton Live is notoriously hard to skin and the out of the box options are really very bad. Luckily Pure AV, aka Lance Thackeray created the best skin for ableton live ever! If you're like me and make music in the dark you'll want a dark theme. Lance is best known for working on serum and it's GUI, check out this interview for more details on that project.
Do check for updates of the skin! Or follow Lance on twitter: twitter.com/lancethackeray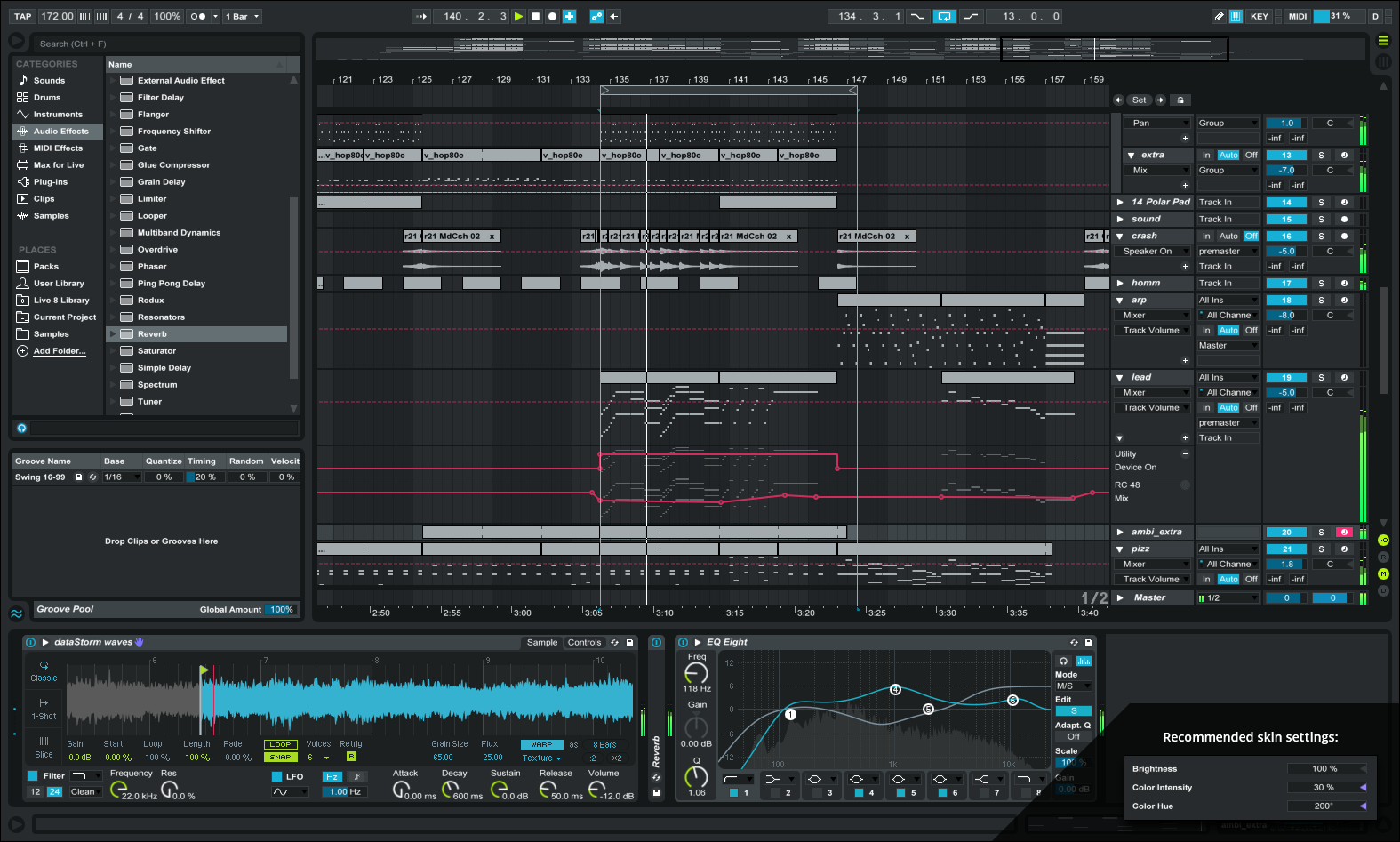 Download Dark Skin
There's loads of contrast and everything is clear to see. It doesn't suffer from the usual issues associated with ableton live skins where bad color choices affect usability. Careful though has been put into this dark skin and I hope eventually Ableton will incorporate something like this by default.
Installation:
Windows: Place 'LT.ask' in C:\ProgramData\Ableton\Live 9.x Suite\Resources\Skins.
MacOS: Right click on Ableton app icon > show package contents> app resources> skins then place 'LT.ask'.
To activate select the skin in Live preferences. The recommended Settings are: Brightness 100%, Color Intensity 30%, Color Hue 200%. Remember to transfer the skin over to any new Live installations/updates.
1.02 Notes:
– Freeze tracks now have a hint of blue. Previously they were white hindering text readability.
– Tracks in Arrangement view that differed from Session view were appearing solid white. They are now subtley pink to reflect the 'Back to Arrangement' button color. (Thanks andresnol.)
1.01 Notes:
– Changed sequencer note colors to pink/red instead of blue. I preferred blue, but the highlight color was also blue, which I couldn't change because that color is shared for other things. *grumble*
1.0 Notes:
– It's very likely that some small areas will look shitty. This is something we all have to live with as the skinning system for Live is terrible, and many sections/params share the same color. That said, I'll continue to look out for anything I can improve and post updates when I do.
Credits:
Skin Editor 1.0 by pechmann
http://www.deviantart.com/users/outgoing?http://www.maxforlive.com/library/device/1504/skin-editor