Every producer gets to a point where they want to try out something new. A different DAW (Digital Audio Workstation) or maybe we want to try out similar effects to see if they're better.
Today's focus is Gross Beat, a time mangling effect from Image-line's FL Studio, introduced way back in 2008. Originally designed to replicate a DJ scratching vinyl, it was meant to replace an earlier plugin called FL Scratcher. Gross Beat put volume and Time shaping into a single screen so that presets could be saved and recalled with ease and patterns selected by simple automation. It's rarely used for the original purpose of scratching. Instead it's halftime presets are legendary and great for instant creativity. This is the go to effect for many Hip-Hop and Trap producers for that laid out, dark feel. Here's a roundup of the best alternatives we've found.
Not to be confused with the native FL Studio plugin, the VST version is available to use in any daw on MacOs and Windows. Yes you can keep on using Gross Beat no matter what daw you're on! Since FL has become a MacOS native app there is now no real reason not to keep on using the original.
What are the best alternatives?
There is a surprisingly large list of my Gross Beat alternatives that replicate this iconic plugin. The idea has be expanded to include, filters and many other effects to further mangle your sounds. The next generation uses layers of FX to create totally new sounds at the push of a button.
Price $52
Melda make some of the most modern plugins on the market, supporting GUI scaling and Multi-Band versions of every single effect. MRhythmizer is possibly the closest looking and functioning to Gross Beat with the addition of filtering as a cherry on top.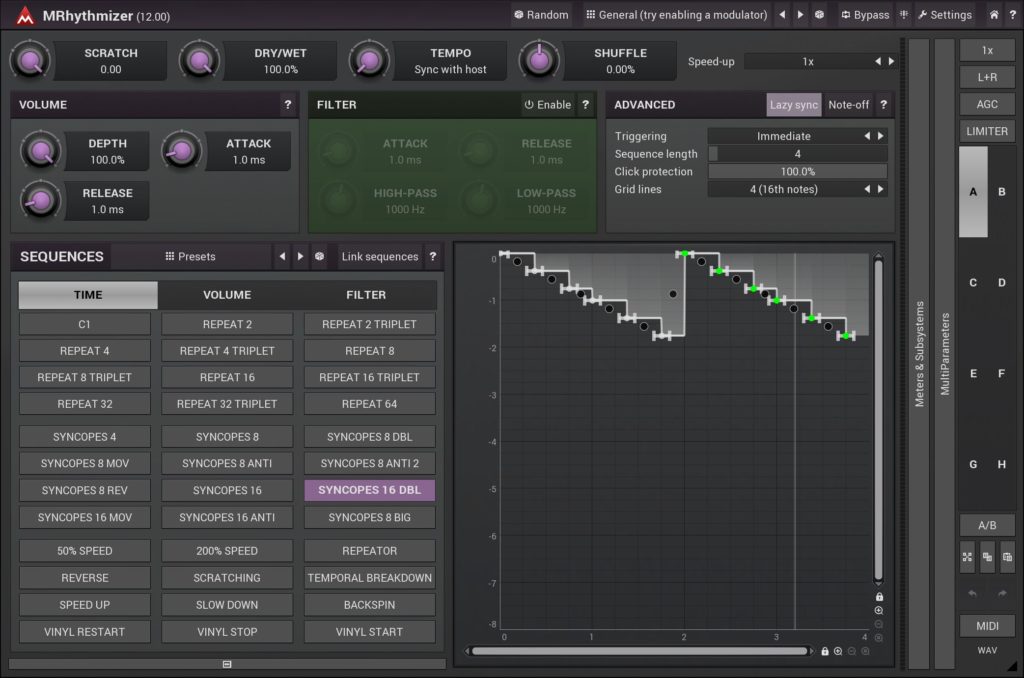 It's even possible to add shuffle to the patterns when working with swing on your productions. The only real downside is the sheer number of options available mean you might just loose hours inside when you should be making music.
Price $44
The major advantage and difference with Time Shaper is that it displays a waveform. This allows you to see the results of your audio mangling. Time Shaper also includes, filter, volume and width shaping that can be layered on top and a huge range of presets to flick through.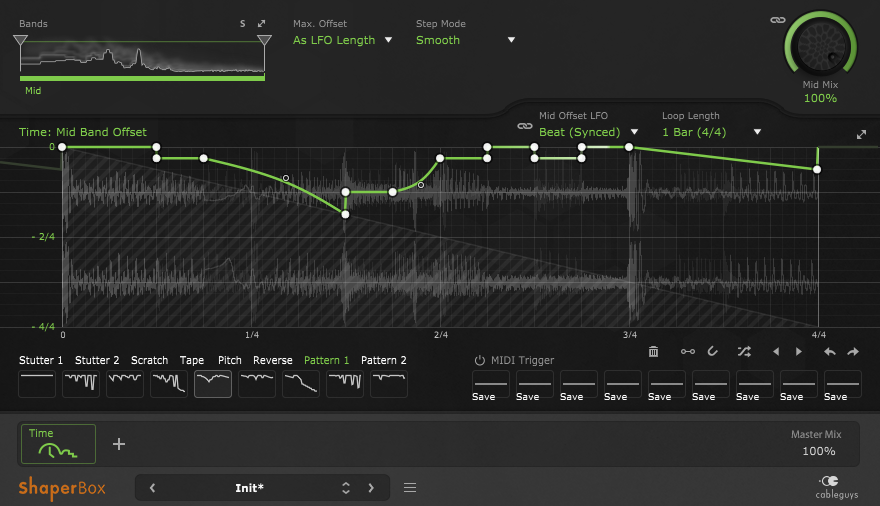 The last surprise is that you can exclude bass and high bands from the processing for even more possibilities all whilst remaining simple and easy to use. Sure you can still get lost with the many options on offer but it still offers this without any added complexity over Gross Beat.
Price $12
HalfTime is a super simple plugin, with very few and powerful controls. It warps any audio into a dark, chilled-out version of the original and gives your tracks mood and atmosphere. A unique fade-in and fade-out feature lets you switch the effect seamlessly and can work momentarily without the need to buffer like other effects of this type. It has a multi-band bypass like it's bigger brother TimeShaper too.
While not a true replacement for Gross Beat, it does do the Half-Time effect perfectly with some added bonuses. Some might find it limited but that simplicity can translate into quicker results.
Price $59.95
Similar to Effectric, Glitch has been around for a while. Version 2 has a new and improved sequencer which can play multiple effects simultaneously, with the ability to trigger unique scenes from every note on your keyboard, Glitch can be as gentle or as brutal as you like.
Thank fully there's an older free version of Glitch 1.3 available for those financially challenged.
Price €119
Effectrix is Sugar Bytes most popular product. Sigur Ros, Armin van Buuren, Diplo and many others are among it's user.
Most of all: it sounds good. Its effects combine to make some unusual sound design possibities.
Price $199
Stutter Edit is a quite unique playable VST plugin by the infamous BT and developed by iZotope. It can generate incredible live remixes just by using your MIDI keyboard and a host like Ableton Live. Stutter Edit gives you glitches to the max.
You can try it free for ten days
Conclusion
If you're looking for a simple slow down effect for Trap, I'd recommend Halftime by CableGuys it's quick and dirty and doesn't slow you down. However if you want more flexibility, Time Shaper gives you more control with minimal fuss. Stutter Edit, Effectrix and Glitch 2 are focused on beat mashing and glitchy FX better suited towards EDM and BreakBeat. They can all be used carefully with restraint but aren't suitable for most trap music IMO. MRhythmizer for me is an almost a 1:1 replacement for Gross Beat but I dislike the UI and it feels like a never ending rabbit hole of features.
Unless you really want something more than the features Gross Beat offer, nothing can quite beat the King. Long live Gross Beat.
*Have we missed out a plugin you think deserves a mention. Let us know in the comments.